10 Fun Outings for the Summer Holidays
Will You Stay In The Netherlands Duration the Summer Vacations? Or do you just want a day out one in a while. I List 10 Fun Outings for This Vacation. Paid Outings, but also a free outing. Get Inspiration from this article for a fun day out.
What to do in the Summer Holidays
Will you stay in the Netherlands this year duration the summer vacations or will you, like us, go abroad, but will you also be home for a few weeks?? Today I am listing 10 fun things to do during the summer holidays. These are outings I have been to myself and many of them I already wrote an article about. Sometimes they just have something extra's during the summer period, this I will then mention extra. So these are certainly not all the fun outings you can do, because there are so many more, but just a list where I think, when I'm home I would like to go here for a day
Things to do during the summer holidays
As I wrote it is priceless if you want to go on all these outings during the summer vacations. But I hope I can inspire you if you don't know what to do one day.
Amusement Parks:
Amusement Park SlagharenRecently we were at Amusement Park Slagharen. For me, it had been thirty years since I had last been here and yet I still recognized a few attractions. I liked this park so much myself that I wanted to put it in this article on outings. I liked the diversity. There were enough attractions for all ages. It might be crowded in the summer vacations, but because of the size of the park it was not that bad when we were there.
Another outing not to be missed is of course the Efteling. The Efteling is surely the attraction park of the Netherlands and because of the many shows and attractions, I must admit, I still have not seen everything of this park.
Playpark Oud-Valkeveen. Last year there was talk that Oud-Valkeveen play park would go away, the site would be bought for housing, but fortunately this was not true. Oud-Valkeveen is a park we love to come to, not only because it is small and convenient, but also for the wonderful sandy beach and water where you can play so nicely in the summer. Ideal for a hot day in the summer holidays
I also experienced this small scale at the next outing I want to share with you and that was Children's amusement park Julianatoren. I had not leg here before, but was here on a bright summer's day in April. It was the opening of a new attraction. I was surprised about the Large Amount of Attractions and also that there was so much diversity. There was something for every age. From July 8 to September 1 There are the Jul & Julia Summer Weeks. Next week we go here obselves and of course this will be on my blog.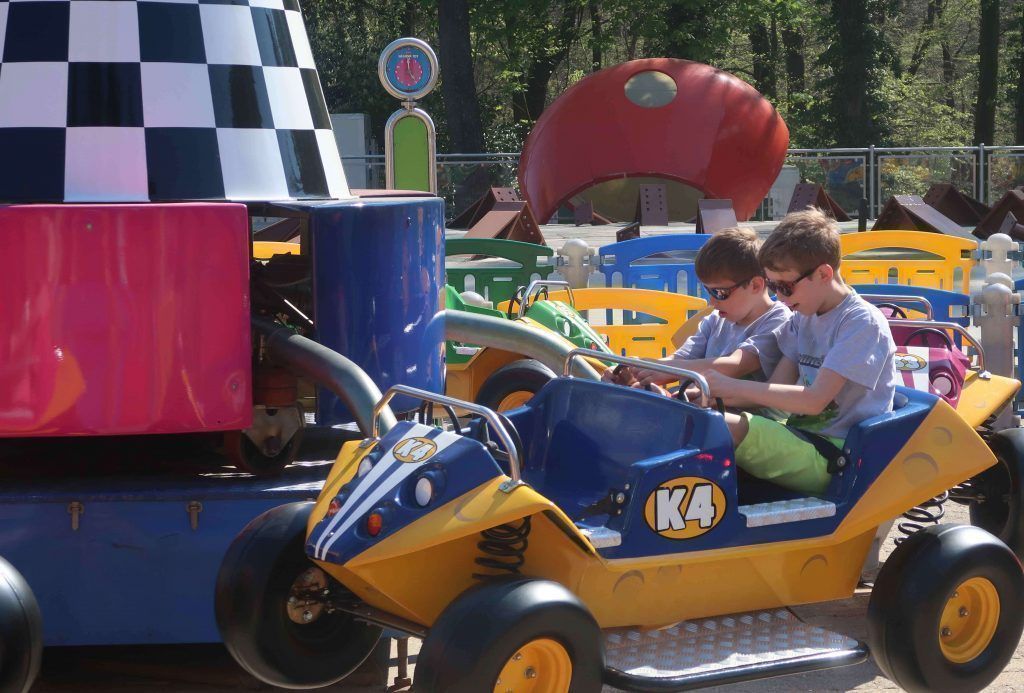 Fun for Younger Children
What I Personally Find A Very Nice Outing is to go to Fairytale Wonderland In Enkhuizen To Go. The Boys Are Now Perhaps A Little Too Old For This Park, But What Have I Enjoyed Every Time Here. The Small Scale and Fantastic Playground is a Guarantee for a Fun Day. Fun for the Summer Vacations But Don't Forget the Winter Edition As Well.
Museum
The Military Museum: A very different outing than the previous ones but very fun and interesting to visit. Especially now that the boys have both had the theme 'second world war' at school, I would like to go to the Military Museum again. It is super interesting and when the weather is nice the kids can also play outside for a while
Free and Inexpensive Outing
Now of Course these are all paid outings, now I myself am of the cheaper or free outings, so my last outing where I myself like to go with the kids is a nature playground. There is one close to my parents and when we are here (not only in the summer vacations so), we like to go to this playground, but there are so many more, here you can find a whole list of nature playgrounds and also on our The Momagids I Found 53 Nice Options For A Cheap Day Out With Kids!
A Rainy Day in Summer Vacation
Well, The Weather Isn't Always Nice in the Netherlands, Not Just in The Summer Vacations, So I've also Got a Few Outings That Are Ideal For A Rainy Day.
How about corpus. A Very Interesting and Interactive Museum. Note that you have to book in Advance because you go into the museum at a certain time. You Walk Through The Museum with Headphones and After The Museum There Is A Lot Of Interactive Stuff to Do.
Image and Sound In Hilversum there is also a great place to visit the vacations, should the weather be less beautiful one day. Step Into the Shoes of A Television Maker, Discover How Influential Media Are And Look Back On Dutch Media History. For the Little Ones There Is Media Ukkie Land. For all ages: here you will spend hours.
The Railway Museum Is always a success. Althegh it will be crowded duration the summer vacations, if the weather is not so good, this is a great place to go. From August 17 to September 1 The Museum is All about Technique. Among Other Things, With the TechLab.