7 special places for a staycation in spring
Are you still looking for a special place to spend a holiday this spring? staycation to spend? Be sure to read on. In this article you can read all about vacationing in a former monastery, renovated church or lodge among the dunes.
Special places for a few days away in your own country!
A staycation in spring
Don't we all need a break from our own environment?. A short staycation. Vacation in your own country has become very popular in the last two years. This is of course no surprise.
What is surprising is that more and more people are discovering how beautiful the Netherlands is.
A work station in your own country
The Netherlands is diverse enough. We have 350 kilometers of coastline. Many forests, moors, lakes, islands and cozy cities is Netherlands. There is plenty of choice for a weekend in nature.
A relaxed wellness weekend in a spa resort. A nice city break in the Netherlands or a work trip in your own country. I list some special places.
Merici Hotel
Merici hotel can be found in the bustling city center of Sittard, right behind the Market Square. This hotel is surrounded by the Secret Gardens of Sittard. Merci hotel is an elegant four-star monastery hotel, located in a former 19th century monastery. The Hotel is a special appearance both outside and inside. It is a fully restored monastery quarter with modern furnishings.
Merici has several luxurious rooms and spacious suites with all modern conveniences. There is a beautiful honeymoon suite with separate bathtub and rain shower.
All information about Merici Hotel can be found here
BUNK Amsterdam
BUNK Amsterdam is a super modern hotel in Amsterdam North. You'll find this special hotel in the 100-year-old St. Rita Church. At BUNK an overnight stay is really an experience.
The rooms float through space like little houses (like in an Italian mountain village). You can choose one of the private rooms or a shared room (dorm). The restaurant has long tables and dishes from the world cuisine on the menu. From the center of Amsterdam it is only a few minutes by ferry to Noord. This area is alive, buzzing and bursting with cultural hotspots.
You will find authentic Nordic city life here, which the masses of tourists have not yet discovered.
All information about Bunk Amsterdam can be found here.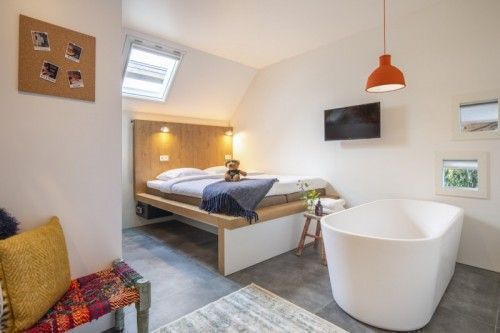 Hotel Lytel Blue
Lytel Blue is a beautiful boutique hotel in Riethoven, near Eindhoven. At Lytel Blue you have a choice of several beautiful blue rooms. Choose the comfortable Lytel Blue Rooms, the luxurious Blue Suites or the special Special Blue room.
This last room is completely plastic-free and you will come across several alternatives to plastic. You can hike through the woods here. Visit beautiful buildings, enjoy a museum or have a drink in town.
You can dine opposite the hotel at restaurant Vandeijck, which is located in a monumental farmhouse.
All information about Hotel Lytel Bleu can be found here.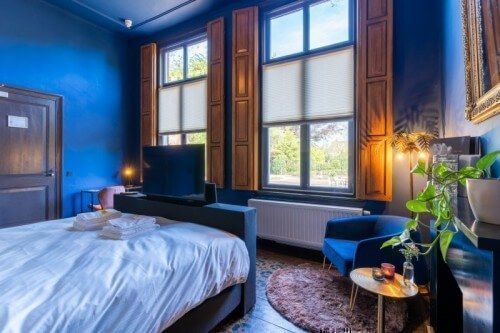 Thermae 2000
And what about Thermae 2000! Thermae 2000 is a well-known wellness center located on the Cauberg in Valkenburg. You'll find a large spa resort with many saunas, indoor and outdoor pools all with beautiful views of the Limburg hills. You can stay overnight at the Wellness Hotel.
Enjoy colorful culinary dishes at Restaurant Pure. From the Thermae 2000 hotel you are in no time in picturesque Valkenburg.
All information about Thermae 2000 can be found here.
Hotel Haarhuis
Hotel Haarhuis in Arnhem is a luxurious hotel with a rich history. Ideal for a staycation.Hotel Haarhuis is a place where people come together. It is a full-service 4-star hotel with several restaurants & Bars, gym, conference center and even a City Spa to relax after a day in the city. A special place where Arnhem meets the rest of the world.
At Hotel Haarhuis you will find various concepts under one roof.
All information about Hotel Haarhuis can be found here.
Roompot
At the brand new Rompot park: Roompot Callantsoog you stay in luxury lodges in the middle of the dunes. Roompot is only 500 meters from the sea. The colorful wooden houses are very modern both inside and outside. Callantsoog is an attractive, friendly vacation resort where there is plenty to do for young and old. Walk or bike through the dunes directly to the beach.
Take a refreshing dip in the summer and take long walks on the beach in the winter. In the small center of Callantsoog are cozy terraces and eateries.
All information about Roompot can be found here.
Bilderberg Castle Vaalsbroek
Castle Vaalsbroek in Vaals is a beautifully located hotel for a staycation, close to the Three Country Point, Maastricht and Aachen. It is part of Bilderberg Hotels and located on an ancient estate of 18 hectares in the picturesque hills of Limburg. Kasteel Vaalsbroek is the ideal destination if you are looking for romantic accommodation. It has everything for the ultimate relaxing hotel stay. The hotel has tastefully decorated hotel rooms and suites in the hotel wing next to the castle.
Enjoy the beautiful view over the rolling hills of Limburg. And after a day in the city or nature you can relax in the pool and sauna.
All information about Castle Vaalsebroek can be found here.
Choose a different environment
Whether you choose a city, the dunes or nature ouw staycation is in the Netherlands this year. Because Holland is beautiful in everything we have to offer.