Chicken with cherries
I first ate this dish years ago at a friend's house and got the recipe from her. I modified it slightly so I don't have to use a bag of curry sauce. Optionally you could use a little less curry if you have tricky eaters but I'm sure kids will love it!
It's sweet because of the cherries and there's a nice crispy crust on top too. And actually that's what we all secretly like best!
Do not eat it too often because it is a high-calorie dish but hey, you should enjoy comfort food once in a while! Serve it with a fresh green salad and you have a complete meal.
What you need
For 4 people:
400 grams of chicken breast
A jar of cherries (drained weight 350 grams)
4 tsp curry powder
one roll of puff pastry (Tante Fanny refrigerator)
100 grams of cream cheese
50 grams of aged grated cheese
beaten egg
salt and pepper
1 tbsp olive oil
How to proceed?
Preheat the oven to 200 degrees Celsius.
Drain the cherries, saving the juice. (You can use this nicely for stewing pears) Cut the chicken breast into pieces.
Heat the olive oil in a frying pan and brown the chicken on all sides.
Add the cherries without juice. Then add the cream cheese and curry. Add 2 tbsp cherry juice and season with salt and pepper to taste
Line a small baking dish with baking paper and half the puff pastry. Pierce the dough with a fork.
Pre-bake the dough for 10 minutes and take it out of the oven.
Put the chicken with cherries in the bowl and cover with the remaining dough. Tuck in a little at the edges.
Sprinkle the cheese on top.
Bake for another 10 to 15 minutes.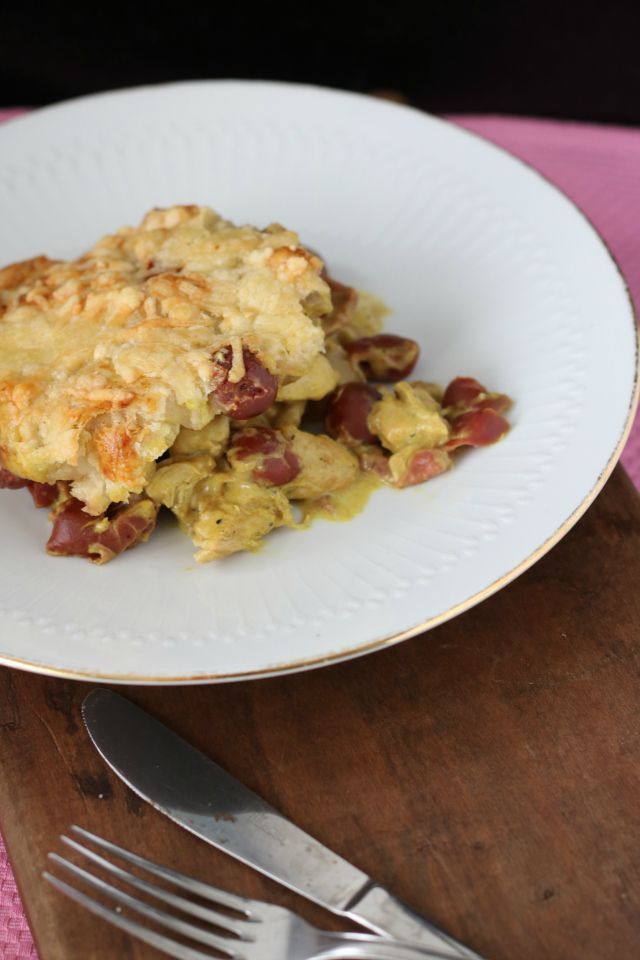 This article was written by Debbie Bodewes. More from Debbie can be found on her blog Deb's Bakery & Kitchen.
♥ ♥ ♥ Fulltime Mama uses affiliate links. This means that if you click on one of the links, we might get a small commission on it. It doesn't cost you anything extra, but it does get us something. These proceeds allow us to maintain this website.
Also, sometimes we get paid for an article or we get a product in exchange for a blog post. Our opinion remains unchanged and honest. For more information please read the disclaimer. ♥ ♥ ♥