Homemade focaccia
By debbie; The weekend is really a time to enjoy yourself. Often as a family you are then all free and there is time for relaxation. For me, good food is really part of it. Since you have more time, you can also dine a little longer.
When I still lived at home it was a regular thing to have breakfast on Sunday mornings with bake-off rolls, an egg and fresh orange juice.
We always squeeze oranges too. An egg and bread we usually eat for lunch. Only preferably delicious bread.
Now in itself there is not so much wrong with bake-off bread but once you bake bread yourself occasionally….
Focaccia
Not many people bake their own bread. I do it occasionally and while it's delicious, it also takes a lot of time. The weekend is therefore the time of the week to give it a try. And I promise you, this focaccia is not difficult and, apart from the rising, doesn't take much time to make either.
My kids love this bread too. They love to dip it in a little olive oil with salt. You can also easily vary the topping.
I put some black olives on top but you can also fry half cherry tomatoes, whatever you like!
What you need?
For 1 large focaccia
– 1 sachet of yeast
– 240 ml of hot water
– 240 ml whole milk at room temperature
– 60 ml olive oil plus 2 tablespoons
– 4 teaspoons of Italian herbs
– optional: black olives
How to proceed?
1. Put the yeast with the warm water in the mixing bowl of your mixer. Leave for 5 – 8 minutes.
2. Add the milk, 60 ml olive oil, 1 tablespoon salt and 2 tsp each of the rosemary and thyme.
3. Start mixing slowly and add the flour little by little.
4. When the flour is fully incorporated, mix the dough vigorously for another 10 minutes. The dough should be smooth and elastic.
5. Of course, if you don't have a stand mixer, you can also do this by hand. First slowly work the flour through the water/milk/oil mixture. Once the flour is incorporated, knead vigorously for another 10 minutes.
6. Cover the dough with a tea towel and let rise at room temperature for about 5 quarters to 1,5 hours. The dough should roughly double in size.
7. Beat the dough (push out all the air) and place on a baking sheet lined with baking paper. Use your hands to stretch the dough so it becomes a large rectangle (almost as big as the baking sheet).
8. Cover with a tea towel and let rise for an hour.
9. Preheat the oven to 210 degrees Celsius.
10. Poke holes in the focaccia with your fingers.
11. Drizzle with 2 tablespoons of olive oil.
12. Sprinkle the focaccia with some sea salt and olives, if desired.
13. Bake the focaccia in 25 – 30 minutes until golden brown and done. Let something cool and serve still warm.
14. Even the next day the focaccia is still delicious! Just heat them up in the oven if you like, but cold will do just as well!
15. Oh yes, it's best to store it in a tea towel.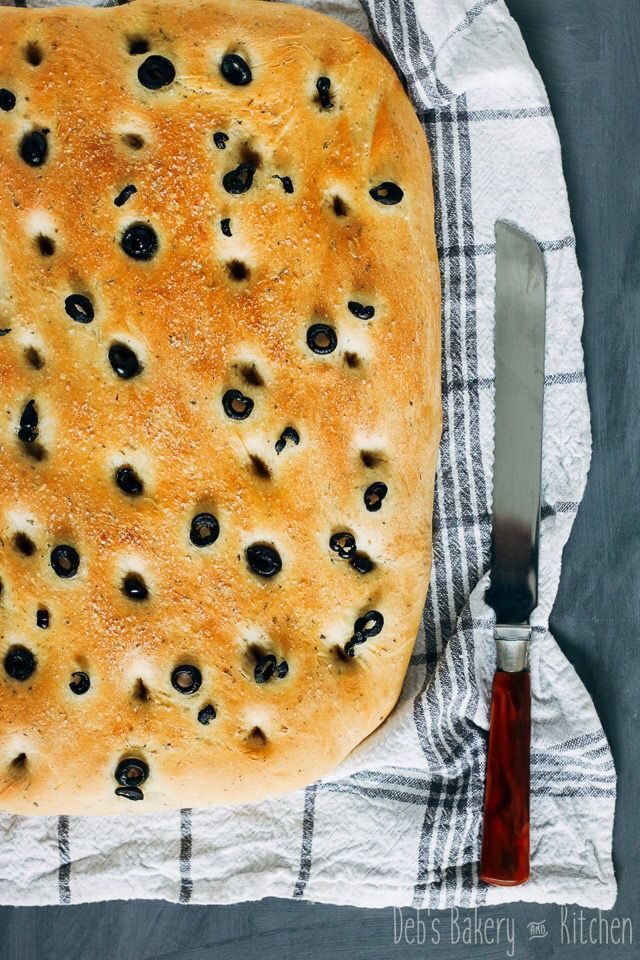 This article was written by Debbie Bodewes. More from Debbie can be found on her blog Deb's Bakery & Kitchen.
♥ ♥ ♥ ♥ Fulltime Mama uses affiliate links. This means that if you click on one of the links, we may get a small commission on it. It costs you nothing extra, but it does give us something extra. With these proceeds we can maintain this website.
Also, sometimes we get paid for an article or we get a product in exchange for a blog post. This still leaves our opinion unchanged and honest. For more information you can read through the disclaimer. ♥ ♥ ♥